The exclusive Dana Foglia Dance 5-Day Intensive is coming to DUTI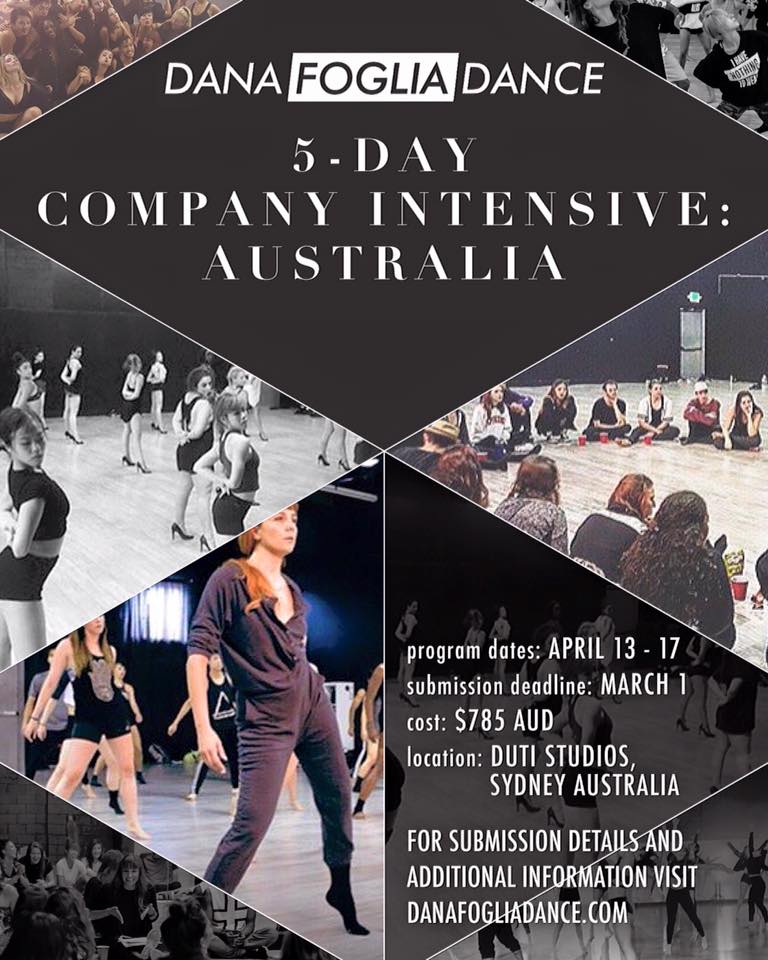 DUTI Studios are lucky enough to host Dana Foglia Dance first ever 5 day intensive in Australia!
We are so excited to announce our involvement with Dana Foglia Dance! This exclusive intensive will take place on April 13 through 17th at our Newtown studio.
Dana is a renowned Choreographer and Creative Director, best known for her work with Beyoncé and her dance company Dana Foglia Dance.
She will be holding this special event for selected dancers who possess the energy, commitment and passion to advance their skills.
Head to www.danafogliadance.com (Dance Training button > 5-day Australia Program), for submission and audition details.
When: April 13 - 17, 2016
Where: DUTI Studios - Suite 6, 82-84 Enmore Rd Newtown NSW 2042 www.dutistudios.com.au
Your Online Submission: Deadline March 1 - Submit video to: This email address is being protected from spambots. You need JavaScript enabled to view it.
Online Submission Requirements: Please submit a 1 minute solo video dancing, along with a 1 minute video introduction segment, explaining why you want to be a part of the intensive.
Please send video links that can be watched online. NO DOWNLOADS. (The intensive open to Australian residents and also international students)

5 Day Intensive
April 13 - 17, 2016 Monday - Friday: 10am - 2pm
5 day Exclusive Intensive
4 hrs a day
Intensive Summary
DFD Rep Classes- Learn rep straight from DFD's full length show
DFD Men's Classes
DFD Heels Classes- Ladies will train one on one with Dana in heels, learning the necessary tools for auditioning
Technique Classes
Prop work
Partnering Techniques
Floor Work
Learn how to work as a team in an intimate, positive and inspiring environment
Tuition Fee: $785 AUD - (Limited Spaces available). $200 AUD deposit needed to hold your spot once selected. (Deposit non-refundable).
The Venue: DUTI Studios operates in an open-plan 155 square metre hub situated in Newtown. The workspace is set in a loft design featuring high ceilings, full-length mirrors; a professional 'Sonos' Wireless Sound System (iPod dock) and sectional LED Track Lighting. Other facilities include a communal table and 'chill out' area, kitchenette with coffee/tea amenities, bathroom and outdoor terrace.
Questions? Contact This email address is being protected from spambots. You need JavaScript enabled to view it.

About Dana

Dana Foglia's extensive training in Ballet, Modern, Tap, African, Street Jazz and Hip Hop, as well as her considerable experiences as a professional dancer - performing, touring, teaching and choreographing for the top artists, allows her to share her wide-ranging skills.
Select dancers in Sydney can now benefit from the passion and commitment she will be bringing to them at the 5-day intensive, held at our Dance Studio in Newtown.
Lately, Dana has been working closely with Beyoncé as her movement coach and choreographer for the 'Mrs. Carter Show' World Tour, in addition to the present 'On the Run' Tour.
Dana enjoys working in an intimate studio environment. The Sydney intensive will simply be nothing but hard, focused, detailed work from the moment the clock says go. She imparts to her dancers the knowledge and the strength of their entire body, plus how to apply that knowledge to become a more mature and smarter artist.
Dancers will quickly appreciate the high level of passion and professional commitment that is necessary -- in an environment that will influence and inspire them for a lifetime!